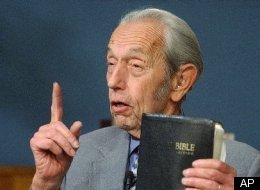 The latest religious wackadoodle has annnounced the "true date" of the Christian Rapture.
I'm particularly amused by this bit of mathematical "reasoning":
The number 5, Camping concluded, equals "atonement." Ten is "completeness." Seventeen means "heaven." Camping patiently explained how he reached his conclusion for May 21, 2011.
"Christ hung on the cross April 1, 33 A.D.," he began. "Now go to April 1 of 2011 A.D., and that's 1,978 years."
Camping then multiplied 1,978 by 365.2422 days – the number of days in each solar year, not to be confused with a calendar year.
Next, Camping noted that April 1 to May 21 encompasses 51 days. Add 51 to the sum of previous multiplication total, and it equals 722,500.
Camping realized that (5 x 10 x 17) x (5 x 10 x 17) = 722,500.
Or put into words: (Atonement x Completeness x Heaven), squared.
Uh….right.